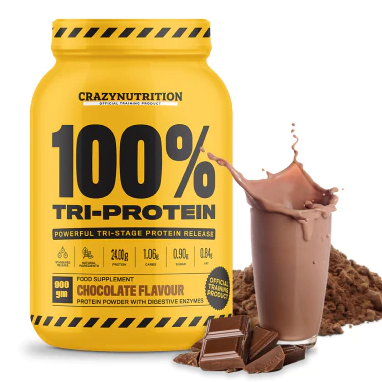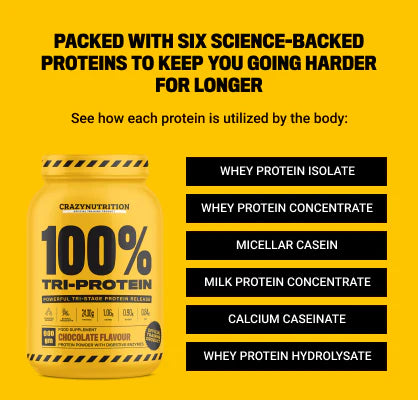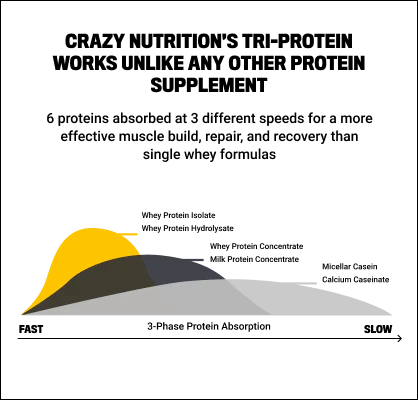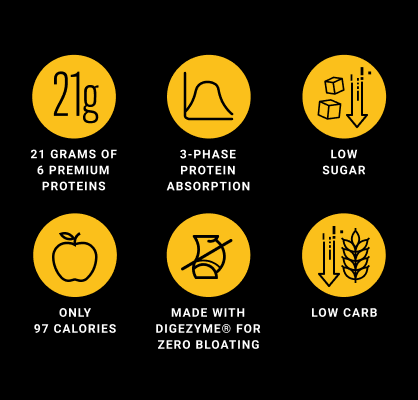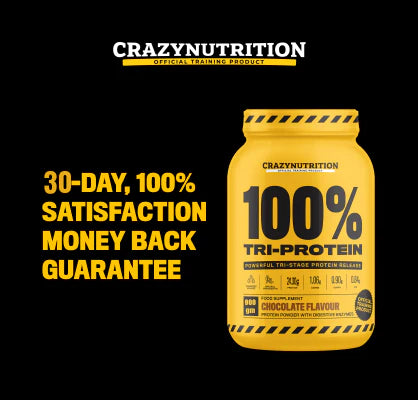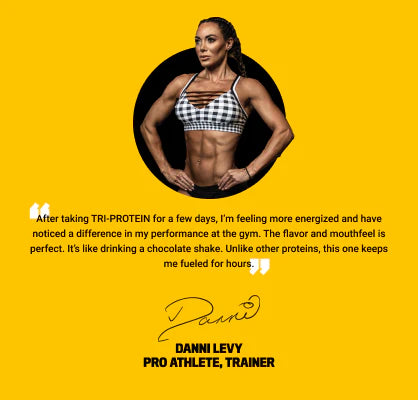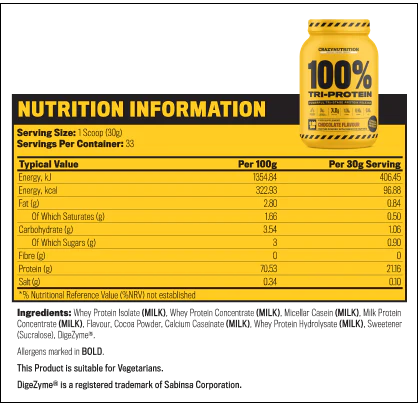 RETAIL : Rs. 4,999
Rs. 2,999
Free shipping
30-day, 100% money back guarantee
Crazy Nutrition's TRI-PROTEIN combines 6, high-powered proteins that are digested at 3 different intervals. This allows you to go longer, lift harder, and feel 100% sustained without stomach cramps, hunger pangs, or "food coma" crashes.
With 21 grams of natural, non-GMO protein, this is the most comprehensive, all-in-one protein formula you need— no confusion, no "stacking," and no added fillers.
6X The Protein Fuel
Build Muscle

21 grams of 6 different proteins.

SATIATION

Curbs hunger.

Metabolism

Burns stubborn fat.

Energizes

Keeps you going strong.
Great for
Morning shakes
after workouts
in-between meals
QUICK SNACKS
Crazy Nutrition's TRI-PROTEIN is formulated to be taken on a daily basis.
STEP 1

Add 1 scoop of TRI-PROTEIN to 16 oz of water, or to your favorite shake.

STEP 2

Shake or stir— and enjoy this delicious chocolate protein shake after a workout or whenever you need some extra protein fuel.

STEP 3

Experience the best results with daily use. Sign up for our subscription so you never miss a day of our TRI-PROTEIN formula.
Ingredients: Whey Protein Isolate (Milk), Whey Protein Concentrate (Milk), Micellar Casein (Milk), Milk Protein Concentrate (Milk), Flavour, Cocoa Powder, Calcium Caseinate (Milk), Whey Protein Hydrolysate (Milk), Sweetener (Sucralose INS 955), Digestive Enzymes (Lactase, Amylase, Lipase, Cellulase & Protease).
"I've tried my fair share of protein supplements. If you can't get all of your protein from your diet, then it's ideal to supplement with the best— and TRI-PROTEIN from Crazy Nutrition wins hands down.
Amazing chocolate shake flavor with a great texture. And packed with 6 proteins for a slower release and bigger build. This is the only protein shake you need. Makes me feel great and satisfies my hunger. Awesome formula."
Otis Taitt
Ex Military PT & Boxing Coach
"Crazy Nutrition's TRI-PROTEIN is my new favorite chocolate protein formula. Great, high quality ingredients. The added digestive enzyme is a huge plus because normal whey proteins give me stomach cramps.

I feel more energized and satisfied. Works as a great meal replacement or if I need to bulk up my macros. I like to add this to my morning shakes. Super yummy and great for on-the-go."
Flori Olar
WBFF Pro Bikini Champion
You're 100% Covered By
Our Crazy 30-Day Guarantee
We're so confident you'll experience the results you're looking for, we offer a no-hassle,
100% money back guarantee.
Try us for 30 days, free of risk, and if you do not see and feel a difference in your
performance, then we'll refund your investment and won't hold it against you.
JOIN OUR NEWSLETTER
Get Crazy Discounts & News From Fellow CrazyBulkers Around The World ...