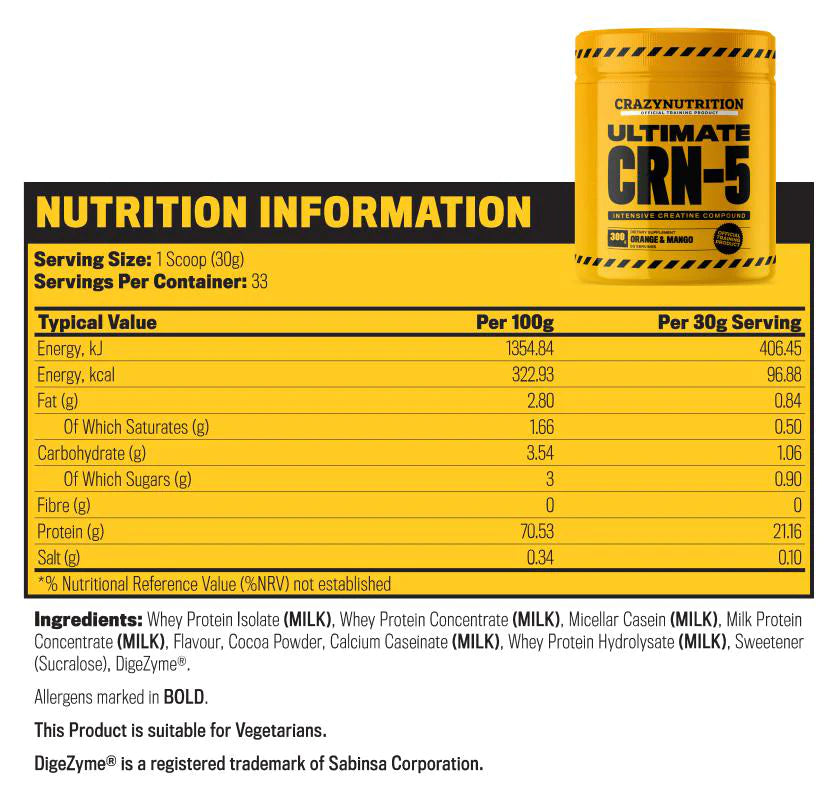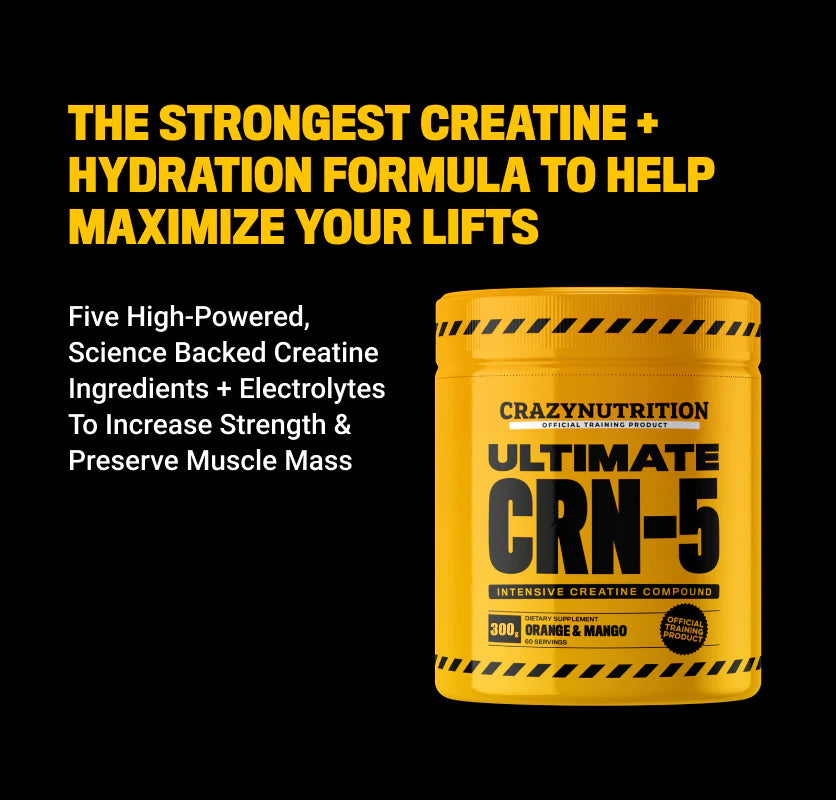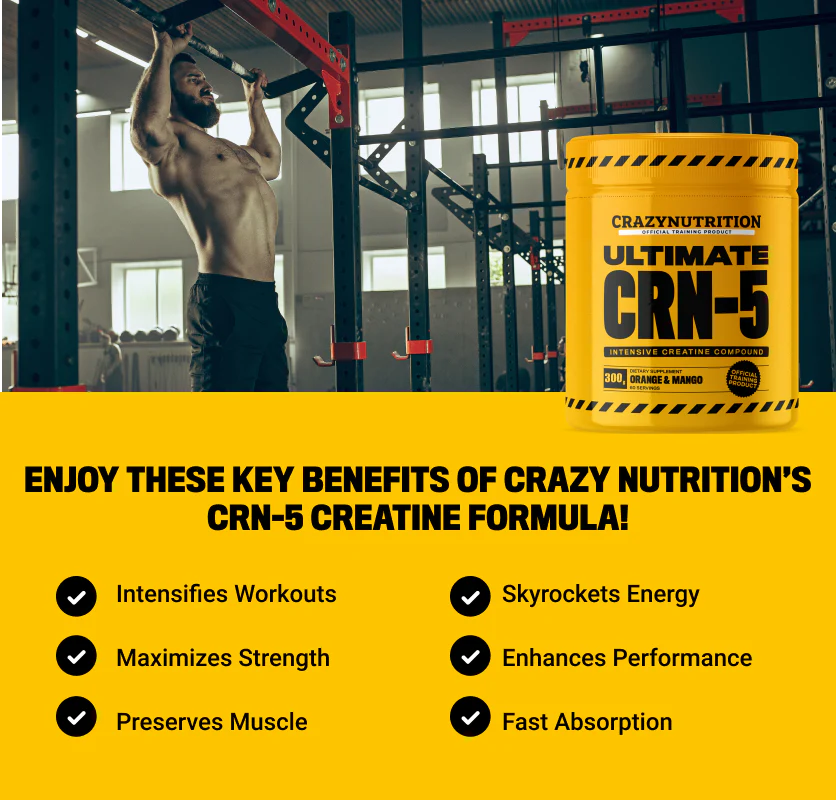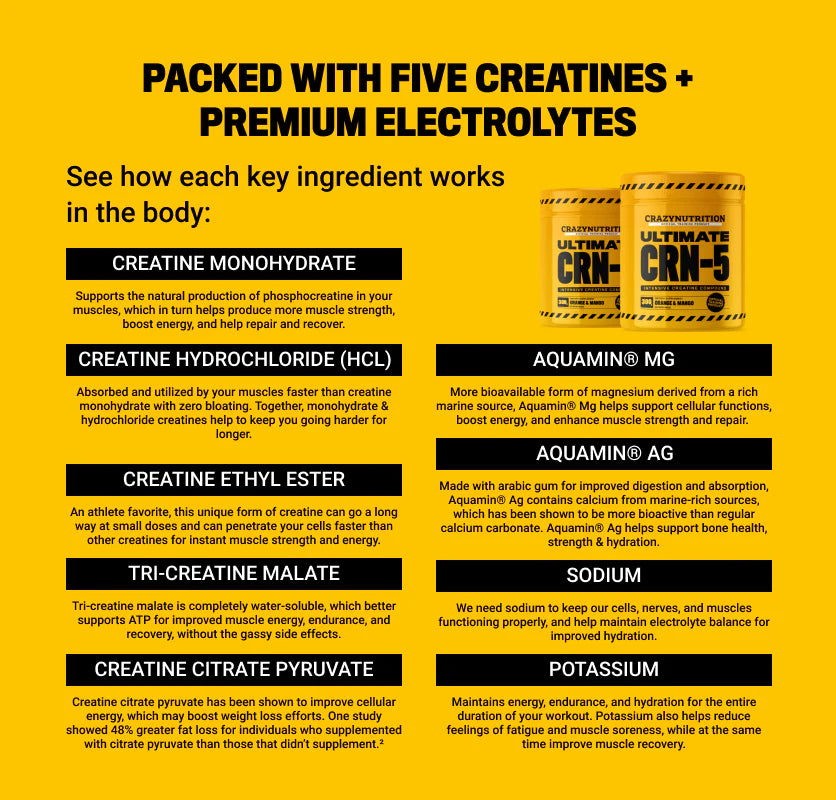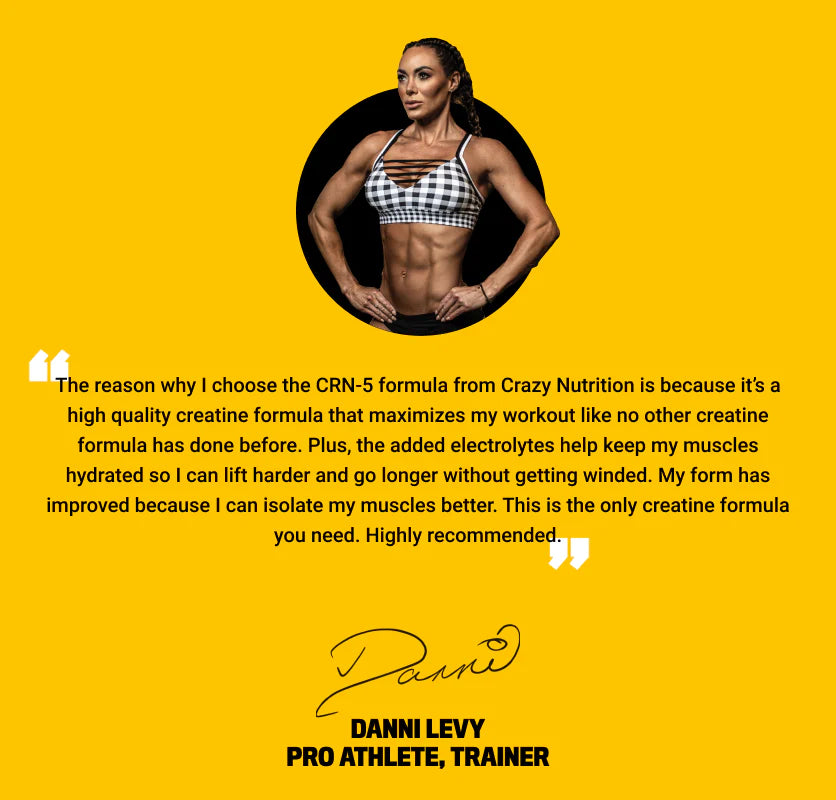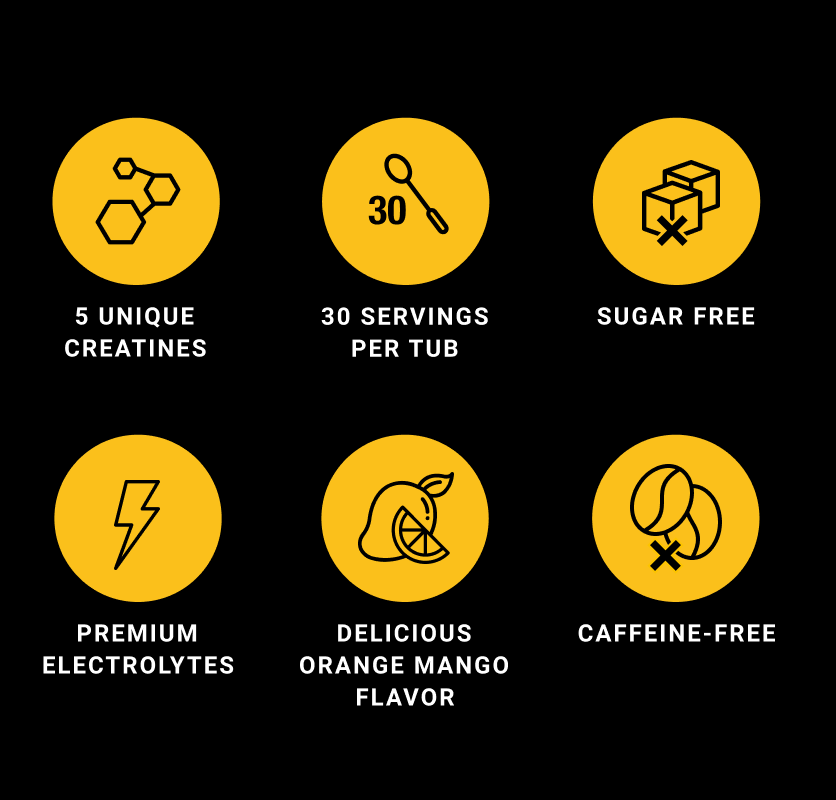 RETAIL : Rs. 4,499
Rs. 1,999
Free shipping
30-day, 100% money back guarantee
Crazy Nutrition's CRN-5 creatine formula is made with five different types of creatine for 5X the workout intensity without cycling, loading, or bloating.
We also added a premium blend of minerals to support electrolytes for muscle hydration so you can lift harder and recover faster.
Intensity Your Athletic Performance
Strength

Watch your reps go up

Hydration

Keep muscles hydrated

ATP Energy

Fuels ATP for intense power

Recovery

Improve muscle recovery post-workout
Works For All Athletes
Gym
Track
Outdoors
Crossfit
Resistance Training
Crazy Nutrition's CRN-5 creatine formula is to be taken on a daily basis 30
minutes before a workout.
STEP 1

Add 1 scoop of CRN-5 to 16 oz of water, either in a shaker or in a glass.

STEP 2

Shake or stir— and enjoy the delicious orange mango flavor as you fuel your muscles with incredible energy + hydration.

STEP 3

Intensify your workout for incredible muscle strength you can feel... and others will see.
Ingredients: Creatine Monohydrate, Trisodium Citrate, Creatine Hydrochloride (HCI), Tri - Creatine citrate, Aquamin Mg (10 % Magnesium), Tri - Potassium citrate, Creatine Ethyl Ester, Tri - Creatine Malate, Aquamin Ag, Citric acid (INS 330), Sucralose(INS 955).
"There's a ton of creatine formulas out there. Most are mono or HCL and they taste like crap and usually contain low-grade ingredients.
What I like about Crazy Nutrition's CRN-5 is the perfectly-combined ratios of five premium creatine ingredients plus added electrolytes to keep my muscles fueled. This is the real deal— it also tastes incredible, like a popsicle."
Nick Manning
xxxxxxxxxx
"This is the best creatine formula I've used. Tastes delicious. Mixes great. And it gives me the drive, strength, and energy I'm looking for.
I would never go hard without a high-grade creatine formula— and this is easily the best around."
April
xxxxxxxxxx
You're 100% Covered By
Our Crazy 30-Day Guarantee
We're so confident you'll experience the results you're looking for, we offer a no-hassle,
100% money back guarantee.
Try us for 30 days, free of risk, and if you do not see and feel a difference in your
performance, then we'll refund your investment and won't hold it against you.
JOIN OUR NEWSLETTER
Get Crazy Discounts & News From Fellow CrazyBulkers Around The World ...